Torrington High School, Class of 1959. Committee Notes, Announcements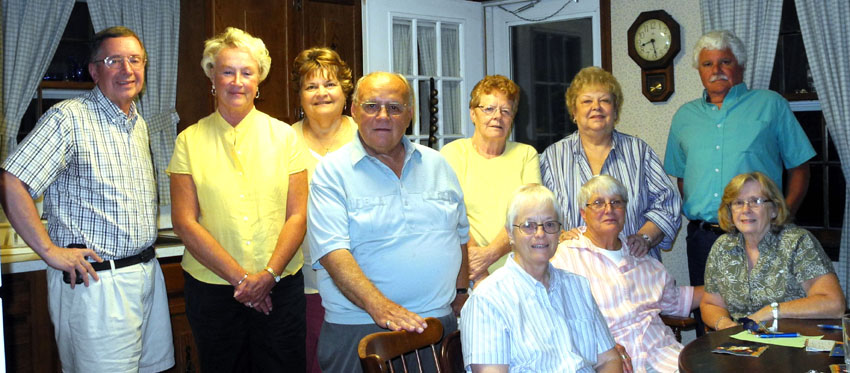 The committee met on July 27, 2011 to review all prices, establish cost per person and set the agenda for the Saturday and Sunday events. We also prepared the mailing envelopes with labels (hand done by Gretchen), stamps and return address. These will be mailed to all classmates without email addresses. The event is shaping up to be a good time for all, with plenty of time to catch up, along with some fun entertainment. Saturday's party begins at 4PM and will end at approximately 10:30 PM.

Class Mascot, Spencer Marciano, looks like he can't wait for the committee to leave !!

Postcards Are On The Way !!! At the commmittee meeting held 11/17/10, we stamped, labeled and mailed nearly 110 postcards announcing the date for the 2011 reunion. These postcards are going ONLY to those classmates who DO NOT have email adderesses. All with email, have been notified of the impending event. If anyone knows of someone with an email address who has NOT been getting our emails, please let me know who they are and their email address. Thanks, Jack (jackwfire@gmail.com)

The Next Steps...were discussed at our committee meeting held 4/20/11 at the home of Don and Donna Marciano. Plans are progressing well and we are finalizing food, entertainment and the overall event schedule. Look for a 4:30 PM start time on Sat., Sept 24th.
| | |
| --- | --- |
| Naturally, we cannot hold a meeting without refreshments. This cake, held by Gretechen was provided by Barbara Krieger Dobos's daughter ! | Spencer, our class mascot, who owns Don and Donna Marciano, appears not to have lost any weight over the cold winter ! Heather Yale Gromko needed extra help in holding Spencer upright ! |


Here we go again !!!! First committee meeting held 10/27/10 at the home of Chairman Don Marciano. Off to a great start, we have reserved Fairview Farms Golf Club for Saturday, September 24, 2011 and Sunday (Brunch) on September 25th. This year, in response to many requests, there will be plenty of "quiet" time while we all try to catch up with one another. There will be plenty of fun as well, as we plan surprise entertainment mid-evening, along with music from the 50's for dancing. Estimated start time is 4:30PM. Meanwhile, all are asked to spread the word to those who you know that do not have computer access. More will follow in the weeks and months to come. We will be mailing a "HOLD THAT DATE" postcard to those without email access, by the end of November. All for now, Jack
Scroll down for the latest meeting news & photos
Meeting held Friday, January 9th, 2009
All locations chosen for the three day event. Menus being selected, caterer chosen, pricing estimates given, several tours for Saturday under evaluation. Sunday brunch location chosen. Primary entertainment under contract
___________________________________________________________
Meeting held March 11, 2009. Budgets and Prices discussed. Must finalize by 4/1/09. In early April, Jack will send out test email to the nearly 80 email addresses currently available. This email is intended to see how many would attend and on how many days/events. It should provide a good data sampling of the number we can expect to attend. Entertainment being finalized. Event hours established.
Photo below shows your committee hard at work at the home of Don and Donna Marciano. Light refreshments were served and we thank the Marcianos for their hospitality !
Meeting held, Wednesday May 6, 2009
And yes, each meeting gets crazier ! See Photo below !! Much progress being made and a review of the survey recently sent out, shows an overwealming approval of the upcoming Fall weekend. We now estimate that we should have nearly 200 in attendance, with most attending all three days !
The formal invitations will be mailed and emailed in July. Plans for the tours around Torrington are being finalized along with many other details.
On a side note, Barbara continues to be very bad and had to be put in a "time out" several times last night !!!
Meeting Held Wednesday, June 10, 2009
Cookie anyone ??? Yes, refreshements are a part of these meetings and yet we do accomplish a few things. This month we prepared for the formal mailing of invitations to go out mid-July. Some will be mailed and others emailed. We finalized the prices, set the schedules for Saturday's events, reviewed a draft of the "official" program booklet to be handed out at registration, and reviewed the registration form that classmates will be completing and sending in with their money. We're now finalizing the details of the entertainment and determining technical details of the sound system requirements. Sorry about the quality of the photo due to some flash problems ! 14 Weeks to Go !!!! +/-
Next Meeting July 15, 2009. The mailing of the invitations !
Committee Meeting 7/15/09
Photo below shows the group celebrating the completion of the stuffing of the envelopes event. Little sanity remains and you'll note the commemorative Michael Jackson T-Shirt one of my sick friends sent me just today ! The reservation forms are now in the mail and we now anxiously await the responses as we head for our October 2nd kickoff to the reunion of a lifetime ! It's now just about 10 weeks away !!
Nest Meeting: September 3rd. Location to be announced.
| | |
| --- | --- |
| The Stuffing of the Envelopes-Work in Progress ! | Don Marciano's Cat, Spencer ! Our 25 pound Official Mascot !! |

Roger proudly displays the reunion reservation form being mailed and emailed this week !!
Committee Meeting, August 19, 2009
This time we met at the Elks Lodge in Torrington for the purpose of making the 2nd mailing as a reminder that time is growing short and all should send in their reservations asap. We also discussed various details of the Friday concert and buffet and noted that all must be in their seats for the 7PM concert start time. Rumors persist of some use of alcohol at this meeting, however they have not been able to be confirned !
BELOW: MEETING HELD , SEPTEMBER 3, 2009 AT HEATHER'S HOME. 30 DAYS WILL THEN REMAIN UNTIL THE BIG EVENT !!
And so it was another meaningful meeting, this time held at the new home of Heather (Yale) & Steve Gromko. Heather and Steve recently moved to Torrington from Farmington where they had lived for more than two decades. For Heather, it was coming home.
We are planning two more meetings before the big day, the next being 9/14/09 at the home of Don Marciano with Art Frigo in attendance. One more meeting will be held a week or so before October, date to be advised.


And yes, refreshments were served !!!Note, below, Roger requesting more whipped cream, and Barbara making sure she didn't miss any !
Below: One more meeting held at Don's house, 9/14/09. We took advantage of having Art in town for the night. Lots of laughs, fun and some serious final planning for the big weekend !
Below: The celebratory final meeting of the THS Class of 59 Reunion Committee was held at the home of Roger and Susie Fulton, Sunday, October 18, 2009. Fantastic buffet, lots of laughs and plans to recover from all the efforts of the past year. Sorry, missed a group photo as we got caught up in watching a slide show of reunion pictures !
Below: Photo of committee taken on Sunday, October 4, 2009 after the Sunday brunch at Fairview Farms. Spectacular day !!