| | |
| --- | --- |
| | '59 Classic Photos Page |
We now have class reunion photos starting with the 50th and working down to the 5th. Caption is at the top of each photo. Thanks to Will Revaz for several of these. Interesting to see how the attendance varies with the year. 25 was a big one and this 50th was a blockbuster !! More photos are added as received., with the latest photos received towards the bottom of the page. Please scroll all the way down to see all. Just added the 5th !!They are just great !! Enjoy !!
50th Anniversary Reunion, Oct 2-4, 2009
Shown below, in two parts, is the official photo of the the 50th Anniversary Reunion, taken at Fairview Farms Golf Course, Saturday night, October 3, 2009.
45th Anniversary Reunion, August 2004, Elks Pond, Torrington
40th Anniversary Reunion, Elks Club, Torrington, 1999
30th Anniversary Reunion, 1989
25th Anniversary Reunion, 1984
20th Anniversary Reunion, 1979
The 15th Anniversary Reunion, 1974, Mohawk Ski Area
10th Anniversary Reunion, 1969



Below: 5th Anniversary Reunion, 1964

The first reunion, 5 years out of THS, in 1964. A rare find, thanks to Elaine Pietrani Brunco, Southport NC ! On the back of the photo, it says: Photograph by Richard W. Schlott III, HUnter 9-5681 !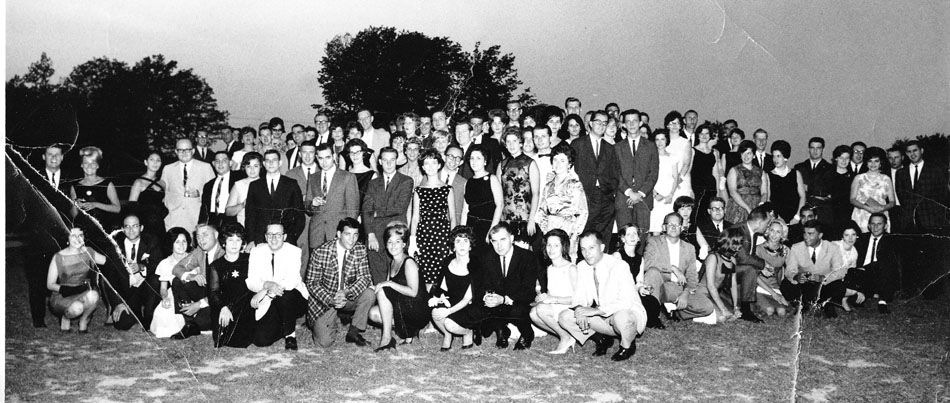 Miscellaneous Photos Shown Below
Another "historic" photo, taken at the Cornucopia Banquet Hall, shows the group taking a break, and all talking at the same time, at the 30th anniversary reunion (1989) From L-R, Kaye Lovallo Coddington, Marie Vedovelli Pequignot, Gale Adorno Campbell, Heather Yale Gromko, Eileen Murphy Hebert, Gerri Galli Luce (sadly,deceased, 1991) and Janet Sikora Sullivan.
Shown in classic black & white, and taken at the home of the late Pete Frasca on French Street, this group hung out together. Front row, L-R, Ed Ryan, The late Pete Frasca, Jack Wallace, Bob Gilson, and Karl Hermonat. Back row, L-R, The late Bob "Willie" Williston, Jack Zaharek, Tom Rosazza, and Bill Kahn.

Taken at Fussenich Park in the Spring of 1959 is this great photo of the THS Baseball Team. From L-R, they are:
Coach Connie Donahue, John Marcantonio, John Marciano, Rich Knapp, Dick Bozenski, Roger Fulton, Art Frigo, Tom Bienkowski, Pete Frasca, and Dave Frauenhofer (Photo courtesy Dave Frauenhofer)
Another unique picture and article from the past. Last person named was Richard Maine. Note the "smerk" on Dwan's face...wonder what he was thinking ??? Some of these folks had some good ideas; ideas we could sure use today !!!
And just when we thought that the pictures couldn't get any worse, I was provided with the news articles and photos below !!! Only kidding !! Didn't they look great ! You'll see some old familiar names in the article !!
BELOW: Surprise meeting... a "mini" reunion so to speak, was held at Casille's Restaurant, Burlington, July 26, 2009. I guess I was the surprise as Kaye, Marlene, and Gayle did not know I was coming. Heather and I had planned to meet with Marlene a few weeks ago but all finally came together today. I felt like a rose amongst thorns in this picture, but in reality I was the thorn amoung roses. It was really fun and presented just a sampling of what all will experience at this upcoming "reunion of a lifetime" ! Just in case, L-R, Gayle Adorno Campbell, Kaye Lovallo Coddington, Jack Wallace, Marlene Piccolo Salvatore and Heather Yale Gromko.



There have been lots of emails between this threesome below. Marlene and I (Jack) were at St Francis together. I'm pleased to report that she's as much trouble now as she was back then, some 54 years ago !! Heather and I work hard to keep Marlene in line !!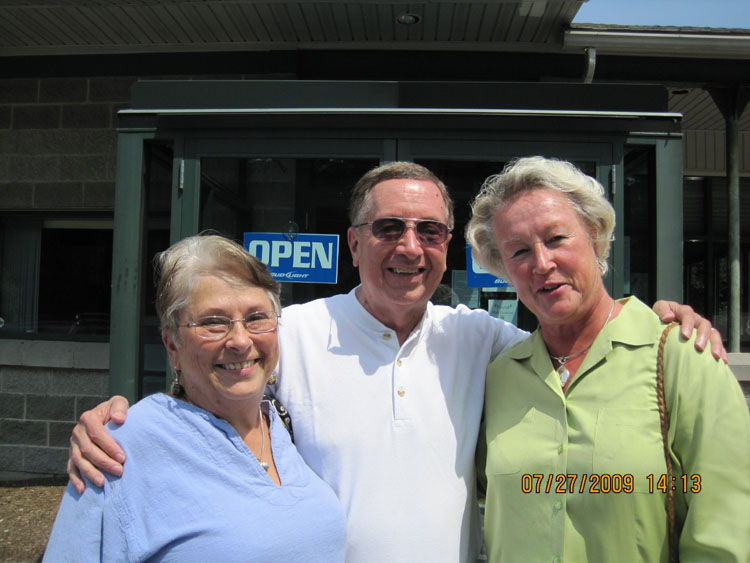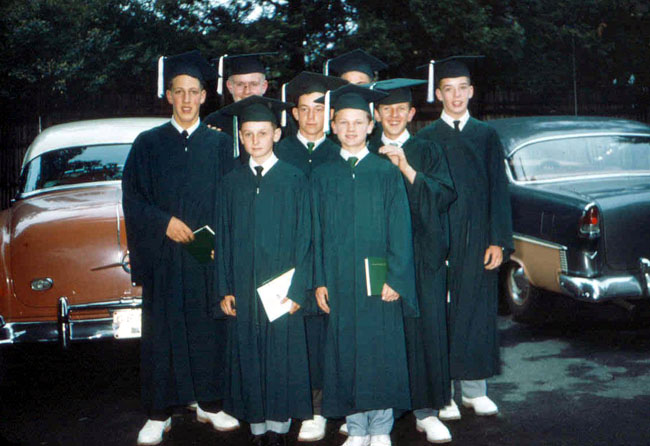 Wow ! Check out this photo sent to me by Ted Zoli. St Francis School Graduation 1955. Some of those identified include Ted Zoli, Bob Williston, Alan Guilmart, Dave Frauenhofer, Herb Lehman, Bob Landry, Ed Ryan and one obscure member. Note the classic cars in the background and the "white buck" shoes ! This truly is a great shot ! Thanks, Ted !!
Shown below, some classic photos of our track team, thanks to Kevin Gilson & Rich Knapp. Familiar faces during good times !!