Marvin "Muff" Maskovsky's Awards
A Show of Appreciation....
WARNER ARTS EDUCATION ANNEX DEDICATION, AUG 30, 2013

After all these years, Muff looks great and sure remembers our class with fondness !!

Beautifully Done Sign at the Entrance Lobby of the Arts Education Center
| | |
| --- | --- |
| Muff with Daughter Greeting Well-Wishers | Just 4 of many THS59 Classmates in Attendance. Dick Maine made the presentation on behalf of our class. |

Very Nice Article in the Waterbury Republican American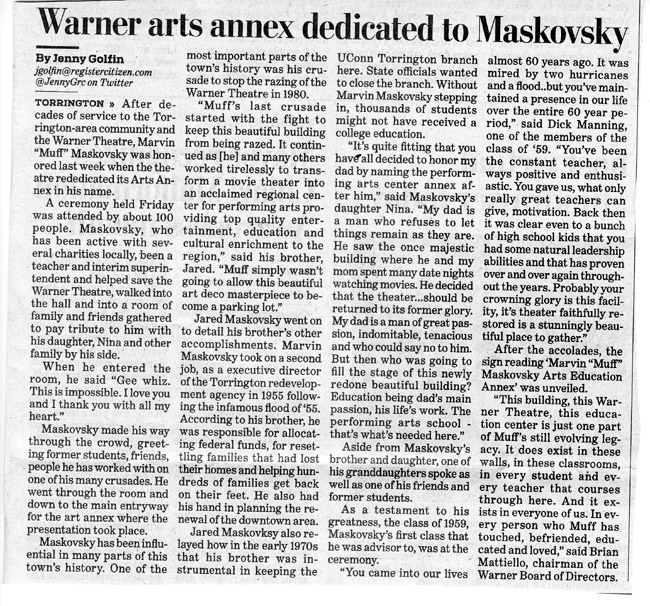 Above from Torrington Register. Note Dick Maine is referred to as Dick Manning !!! Maybe they thought he was Peyton's brother !!

The Program Booklet for Muff's Day
And here's a previous award !...........
2008--MUFF HONORED FOR HIS 10 YEARS AS PRESIDENT, WARNER THEATER BOARD OF DIRECTORS
Our class dedicated our yearbook to "Muff" and, at a ceremony held at the Warner Theater, Saturday, May 16th, he was honored for his 10 years as President of the Warner Theater Board of Directors. He has been a driving force behind the spectacular resurgance of the theater, now the shining star of downtown Torrington. Accompanied by his Daughters, their Husbands and a Granddaughter, Muff was presented with a plaque that will hang in the main lobby of the Warner Theater. Torrington Mayor, Ryan Bingham, proclaimed Saturday as Muff Maskovsky day in Torrington !
Always known for his tireless energy and compassion during our days at THS, it nice to know that his energy and enthusiasm have never weakened through the years. The Class of 1959 extends our heartiest congratulations to one of the best ! We look forward to "Muff" being a significant part of our 50th Anniversary Reunion !