Torrington CT High School, Class of 1959
| | | |
| --- | --- | --- |
| | Before being used to house high school classes, the building was used for elementary school classes, probably as early as the 1860s. It is difficult to determine exactly when it began use as a high school but since the first THS graduating class was in 1889, I think it would be safe to say that it was being used for high school classes from circa 1885 to 1913. The building was destroyed by fire on May 24, 1913 | |
This is the Official Web Site of the Torrington CT. High School, Class of 1959
Original Class Size was 292. Deceased estimated now at 82. Current Surviving Class Size = 210 +/- (As of 4/14/19)
Jack Wallace, Webmaster & Communications
NOTICE: 60TH REUNION
Saturday, Sept 21 and Sunday, Sept 22, 2019.
One more opportunity to catch up with many classmates you may not have seen for years. Perhaps classmates who have had a positive impact on your life, and you'd love to relive those moments with them ! Hoping for a significant turnout for both days. We promise a casual, relaxed, easily accessable, first class atmosphere, good food and drinks, fun, and the excitement of once again, being together as a class. A class which has been the closest of any class graduating from THS !! Please join us !
Details will follow in the weeks to come via email and postal mail, with formal invitations, costs etc., by the end of June. Counting down !! (Clock says Hartford, but really means Torrington ! )
See text below of a postcard postal mailing, being mailed to all class members, week of 3/25/19
TORRINGTON HIGH SCHOOL, CLASS OF 1959 REUNION "60"
Remembering our memorable, fun times at Torrington High, at a time when life was so much less complicated. Saturday, September 21, and Sunday, September 22, 2019 Chatterly's Torrington and Fairview Farm, Harwinton Hold this date ! Please mark your 2019 calendars and start planning for your trip. More details will follow in the next few months. Please note that we will be using email and our website more than ever so please be sure we have your current email address. Also, if any of your contact information has changed, PLEASE let us know. Email to: jackwfire@gmail.com and include Maiden name. No email ? Just call and update me at: 860-689-3832. We look forward to seeing everyone at this "fun for all" epic event !!!! See: www.thsclassof59.com for reunion updates. Formal invitations with costs, details etc.,will be mailed early June. Spouses / Significant Others, encouraged to attend !

Chatterly's Main Building ( Was Deleo's Grove, Cornucopia ! ) Saturday's event
| | |
| --- | --- |
| Event hall view from the back/entry door. Bar located upper left corner | Event hall at Chatterly's, Front of room, looking to back |

View from porch at Fairview Farm, Harwinton (Sunday's location)
The planning begins !! We held our first meeting on Monday, October 15, 2018, at the home of Heather and Steve Gromko. Heather created this unique cake for our meeting using a photo from a past reunion. Lots of discussions...lots of work to do. Update 10/19/18. Two dates and locations now confirmed. Saturday, 9/21/19 at Chatterlys (Cornucopia)( Pictuted above) and Sunday Brunch, 9/22/19, at Fairview Farm GC.(Photo above) Need updated information for EVERY classmate. IMPORTANT: If you, or some classmate you know, has moved, changed email address, phone numbers etc, please let me know at: jackwfire@gmail.com or call 860-689-3832.
Classmate News: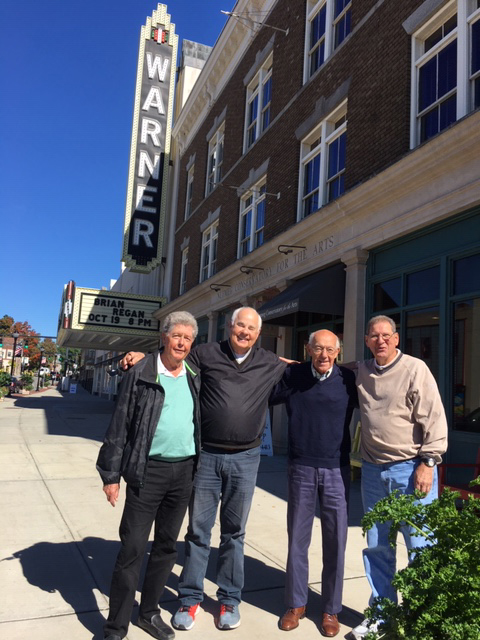 THE BAND IS BACK TOGETHER. !! Rich Knapp, Art Frigo, Dave Frauenhofer, and John Marcantonio were all in downtown Torrington the week of Oct 2nd., and stopped to have this classic photo taken !! Great to see these four super guys together again !!

This photo taken at the Warner, Fall 2014. L-R: Heather Yale Gromko, the late Dick Maine, John Marciano, Don Marciano.

Our Kevin Gilson, honored by this graphic, located in the Mountaineers football stadium.
Nice photo of some great THS grads, from Jeri Beck Veronesi......Met these friends in Florida..had not seen each other in over 50 yrs but just by chance Ben and I met at the beach and so on and so on..we were all together for Roger's birthday Left to Right Ben Ossola Class of '58, Roger Magistralli 57,Kay (Brent) Wall 56, Ben's wife Fran,Jeri (Beck) Veronesi '59 and Tom Wall "56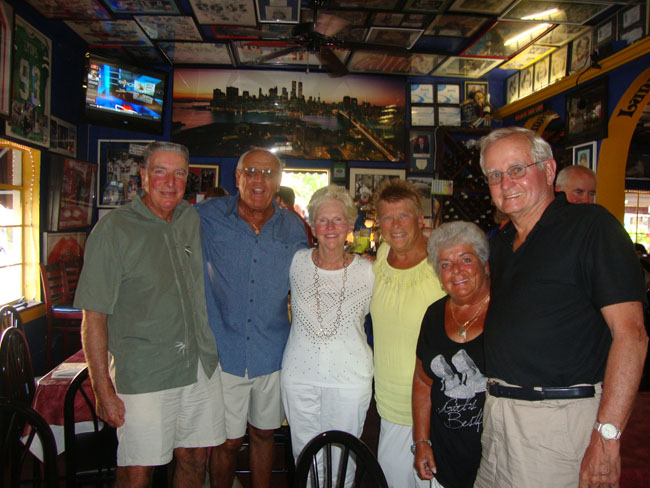 Ths 59'ers at the UCONN vs University of Central Florida (Orlando) game, 1/22/15. L-R: Jack Wallace, Jean Wallace, Lou Marinelli, Jeannette Marinelli, Charlie Bienkowski, Teresa Bienkowski, Donna Ferrato and Dave Ferrato. All had dinner at Applebees prior to the game. Great fun. UCONN fans outnumbered the local fans by at least 3 to 1 !!! UCONN won 100-55. Real nail biter !!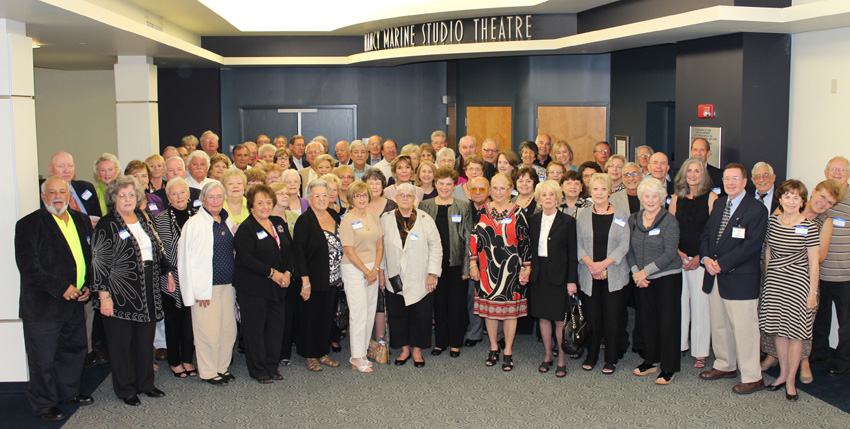 Torrington High School, Class of 1959. 55th Reunion 9/27/14 Warner/Nancy Marine Theatre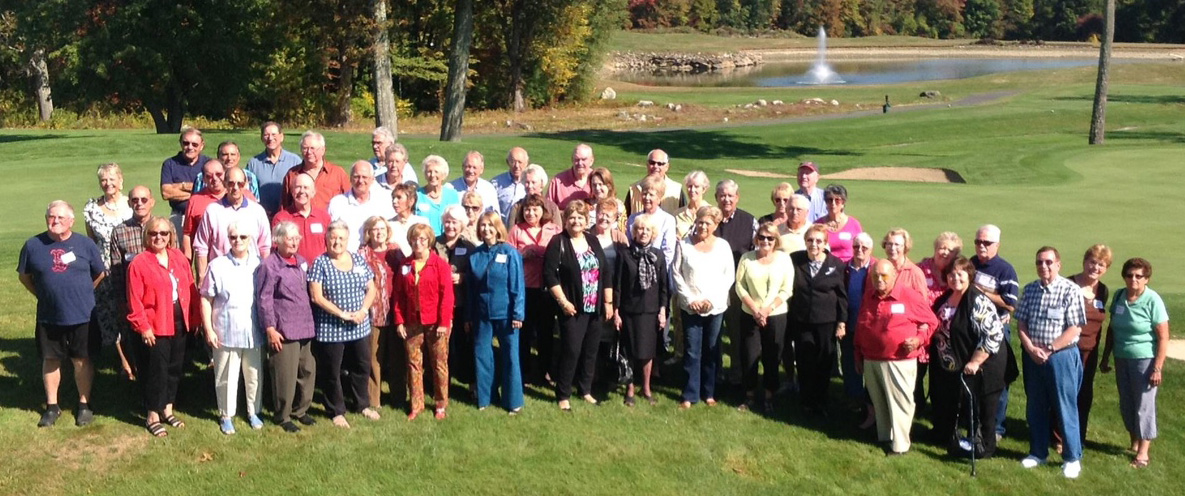 The Sunday Brunch Group-Fairview Farm. Revaz Photo
55th Reunion Weekend-Overview of Events
FRIDAY EVENING: We'll be at Bogey's at the Greenwoods Country Club, 300 Torringford Street (Winsted Side). Casual, pay-as-you-go event, starting at 6PM and ending around 9. Order food from the "Pub Menu", drinks from the Cash Bar. Directions: From East Main Street, head North on Torringford Street ( Rt 183) towards Winsted for about 4.5 miles. When you pass West Hill Road on your right, the entrance to Greenwoods CC will be on your LEFT in about 700 feet. Look for the Greenwoods CC sign.
| | |
| --- | --- |
| The Clubhouse | Dining Room. Location of our Gathering |
| The Bar. Many of you will call it "home" ! | Beautifully landscaped fence & grounds |
SATURDAY AFTERNOON & EVENING: We'll be at the Warner/Nancy Marine Theater, Main Street, Torrington. Doors open at 4 PM for registration and to get your name tags. Buffet, prepared by Chatterly's will begin around 5 PM and a cash bar will be available starting at 4:00 PM. Planning a class photo at 6:30 PM, followed by everyone in their seats in the theater by 7PM. Brief speaking program starts at 7:10 PM, with the Bronx Wanderers going on at 7:35 PM. It will be a great night !! And, we were right on schedule !!!
| | |
| --- | --- |
| Buffet Line from the 50th | Theater Entrance |
| Nancy Marine Theater Lobby | Where We Graduated From, 55+ Years Ago |
Sunday Farewell Brunch: We return to the beautiful Fairview Farm Golf Club, for their great Sunday Brunch. Event starts at 9:30 AM and goes to Noon. Club is located on Hill Road (Rt 222). Take Route 4 from Torrington to Harwinton. Take a right on to Rt 118 ( towards Litchfield) , then your 2nd left on to Hill Road. Cross Delay Road, then the club will be 500 feet on your left. Comes up quick, so be prepared.
| | |
| --- | --- |
| Watch For This Sign ! | Beautiful Views |
| Scene From Past Reunion | This shot says it all !! |
The final committee meeting for the 55th reunion was held at the home of Steve and Heather Yale Gromko on Wednesday, 9/17/14. Now we can take the next 4 years off !!! All we need now, to make the 55th a success, is your attendance !
Reunion Committee meets at Jack's house, to label, stamp and stuff nearly 240 envelopes in preparation for the mailing of the 2014 THS Class of 59, 55th reunion reservation forms. With many hands making light work, we finished the task in about 35 minutes, leaving plenty of time for refreshments and planning for the big weekend. ! Mailing went out July 10th.
PLANS SET FOR 2014 REUNION, SEPT 26-28, 2014
| | | |
| --- | --- | --- |
| Greenwoods CC-Friday Evening | Nancy Marine/Warner-Saturday Event | Fairview Farms-Sunday Brunch |
MEET OUR VERY SPECIAL GUESTS FOR THE 55TH THS CLASS OF '59 REUNION !!! THE FULL SHOW !!
PLEASE NOTE: THE REUNION IS COMING UP FAST. TIME NOW TO START LOOKING AND MAKING RESERVATIONS FOR FLIGHTS, HOTELS ETC.
Hello Classmates, Following my last solicitation for inputs on the upcoming reunion, I have received many nice comments and suggestions, especially for plans for the Friday evening portion of our weekend.
The overwhelming suggestion was for a quiet evening at ONE location, with NO formal program, entertainment etc. Just a nice night to meet, greet and catch up.
To that end we have an agreement with Bogey's at the Greenwoods Country Club. No tickets or formalities required. Just show up, order food, snacks etc from their "Pub" menu, and have a drink at the cash bar. The rest of the weekend is pretty much all set.

Saturday.. the big event, at the Warner / Nancy Marine Theater. Doors open at 4 with a buffet catered by Chatterlys and a cash bar. We'll need to be in our seats in the theater by 7PM to start the festivities. The Bronx Wanderers will go on at 7:30 for their full show, which should conclude at about 9:30. After which, you'll still have time to mingle in lobby until around 11 PM

Sunday is set at the beautiful Fairview Farms in Harwinton, for their great Brunch…more time to visit in a spectacular setting. Check out their latest web site and check out the video from their home page, www.fairviewfarmgc.com
Please start planning now for a wonderful weekend in CT., September 26-28, 2014 !! Please spread the word to those who do not have email. We'll catch up with them by postal mail after the first of the year if not before. We look forward to seeing everyone again !! Best, Jack, (On behalf of the THS Class of 59 Reunion committee, Don Marciano, Chairman.)
LISTEN TO A LIVE RECORDING OF OUR ACTUAL GRADUATION, JUNE 1959, BROADCAST OVER WTOR, WITH THE VOICE OF THE LATE AL EYRE.
THIS IS TRULY A SPECTACULAR PROJECT, CREATED BY CLASSMATE WILLARD REVAZ. Will had actually supplied me with the audio clips a couple years ago, but I was never able to get then to translate to the web site without gaps. Will has accomplished this using YouTube and it's absolutely amazing. His comments are below, and just below his comments, is the link to "YouTube". Just click on that link, turn up your volume, close your eyes and visualize all of us at the Warner that fateful night. I'm sure the voices you hear will sound very familiar !! THANK YOU, WILL !!!
PS: My first radio broadcasting experiences were at WTOR when the studio and transmitter site were down in a hole on Perkins Street. Al gave me my start in broadcasting, and he was truly a unique and dedicated individual !!! Listening to his voice, sure brought back some great memories. .....Jack
Hi Jack, It's been a long time coming, but I finally was able to get the WTOR recording of our graduation uploaded and online on uTube. Please check it out on the link beow and if you see fit, could you post it somewhere on the reunion Web page for all our classmates to see and hear. They can also find it by searching uTube for: "THS Class of 1959 Graduation Ceremony". I didn't have enough pictures to post along with the entire audio, so I took the liberty of posting some pictures I took at the 7052 reunion also. Even so, the audio goes on for another 35 minutes or so, mostly awards presentations. Thanks in advance for your efforts in keeping the GREAT web page up and running and I hope my enhancement will be welcomed by our classmates. Looking forward to another teriffic reunion this year, Willard Revaz '59
HERE WE GO AGAIN !!! 55th REUNION PLANNING UNDERWAY !
Where does the time go ??? It seems like yesterday that we were planning the great 50th and our "Project 7052 Reunions, and now it's time for #55 !!! The dates are set for September 26-28, 2014, now less than a year away !! We met for the first time last night (9/30/13) at the home of Heather Yale Gromko to start to work through the details. Saturday night, September 27th will be the main event, with the BRONX WANDERERS full show at the Nancy Marine Theater, preceeded by a buffet in the lobby, just like we did for the 50th. That will be a great night for all ! We also recognize the need to make this reunion very cost effective, based on the state of the economy, and the fact that we are not getting any younger !! Hence, we are considering less formal activities for that Friday night, and are looking into that beautiful Sunday Brunch at Fairview Farms, which everyone seemed to really enjoy. Nice quiet time, great food etc before departure. I'll be updating everyone as we proceed, but please mark your 2014 calendars for these dates. We look forward to seeing everyone again !! Please spread the word !

Your reunion committee. Back row, L-R, Heather Yale Gromko, Barbara Krieger Dobos, Pat Cable Thompson, Joyce Hock Leifert, Doramae Bray Iffland, Elaine Kules Berry, Gretchen Muller Ross. Front Row: Roger Fulton, Jack Wallace. Missing due to prior committments, Chairman Don Marciano and John Cellerino. Also missing, Art Frigo and Rich Knapp who are, of course, out of state. Don was in contact with us by phone during the meeting just to be sure I didn't screw it up !! JTW
Yes, the weekend of September 26, 2014, has been chosen with the "main event" on Saturday, September 27th, 2014. Please mark your calendars and start planning for a 3-day event, Sept 26-28, 2014.
See recent photos/classmate activities below. Some recent photos moved to Classic Photo Page, see link at bottom.

A gathering of friends at Heather Yale Gromko's home, May 28,2013. L-R: Dick Maine, Naomi Pincus Cramer, Elaine Kules Berry, Janet Sikora Sullivan, Jack Wallace, Jim Serkey. (Photo by "Steve Gromko Studios", formerly Ruben Studios !!--Remember them ??
THS 59 Mystery Photos Shown Below !!! What great photos ! Now, who can tell me what they are ! These two photos were dropped off at my house by Marlene Piccolo Salvatore ( Again, why did I ever give her my real address ???) Anyhow, can you identify these..what was the group , where were they taken and when. I'll post your answers when received.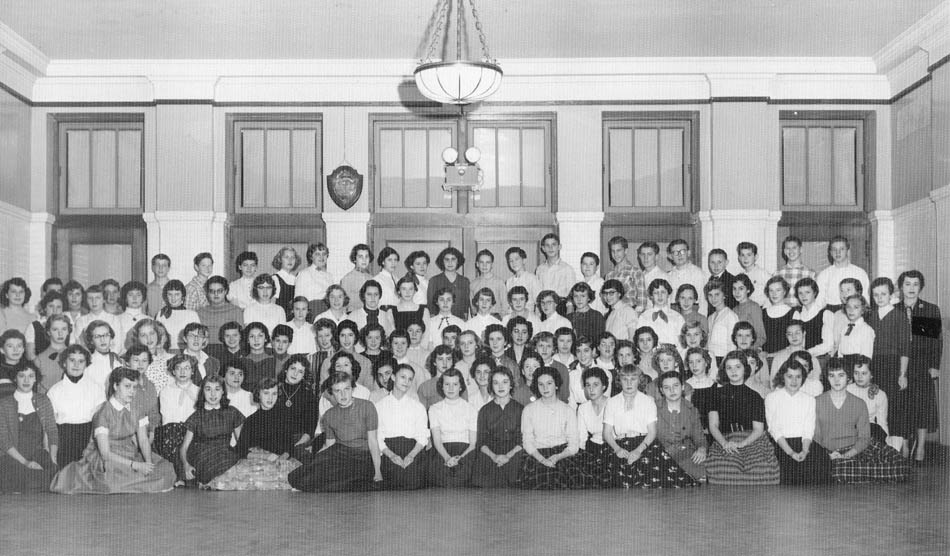 Photo #1 Looks like taken in front of the THS auditorium. Mostly all girls...who...why ?? Update from Gayle Adorno Campbell and others indicates that this the Freshman Drama Club !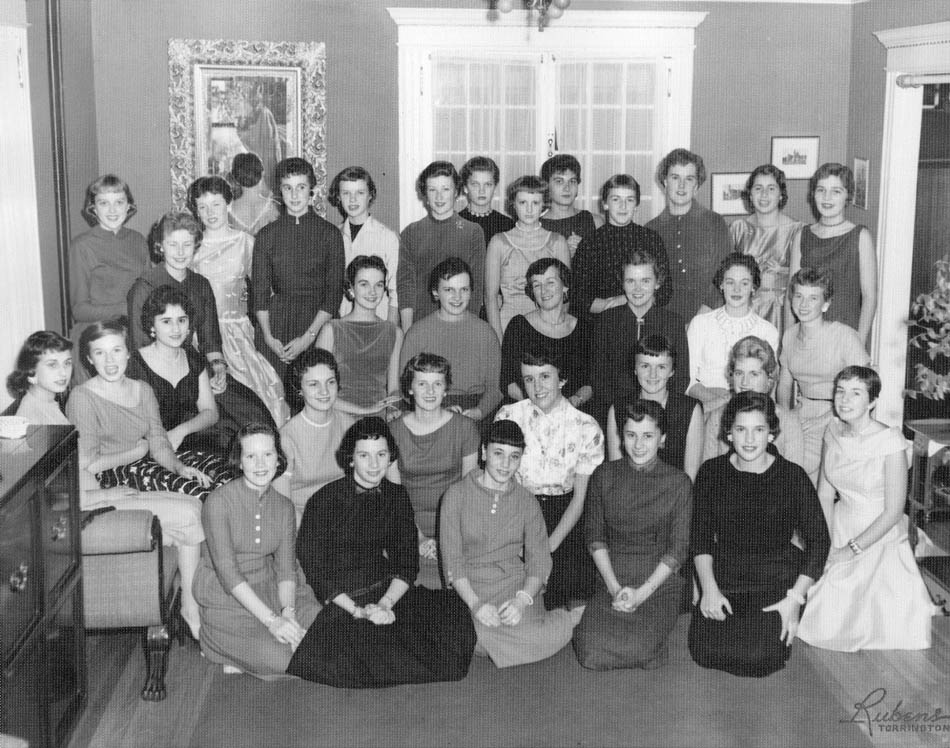 Some kind of Sorority or secret organization ?? Please let me know. Jack 100112 email: jackwfire@gmail.com.
Latest input from Janet Sikora Sullivan notes that this is the Sigma Phi group via the YMCA. Another possibility is Alpha Omega and another input for Delta Phi. There are upper classmen in this photo from the class of 1957 etc. Photo may have been taken at the Mountain View Inn in Norfolk.

50th Anniversary Party, submitted by Alan Mackensie: Hi, Jack! We have just returned from my brother Ken and Karen's 50th Wedding Anniversary party, which was held in Bethel, CT. The picture attached shows the eight who are THS graduates. From left to right they are: Keith Revaz '61, Peggy Revaz '57, Jack Revaz '55, Willard Revaz '59, Alan Mackenzie '59, Karen Revaz Mackenzie '60, Ken Mackenzie '58, Mary Oliver '65. Rock on seniors! Alan...... Thanks Alan, great photo, much appreciated !
Editor's note: If any of you classmates get together and have a photo, please send it over and I'll publish it ! (Within reason)The site is quiet these days with the 55th reunion now a year + away, ( 2014), so lets have a little fun with photos as above ! My best, Jack !!
Send to: jackwfire@gmail.com
Note: Updating website on an ongoing basis. Photos previously on this home page are ultimately moved to the Classic Photos Page, Grammar School Photos page etc. See the links at the bottom of this home page. Jack 010512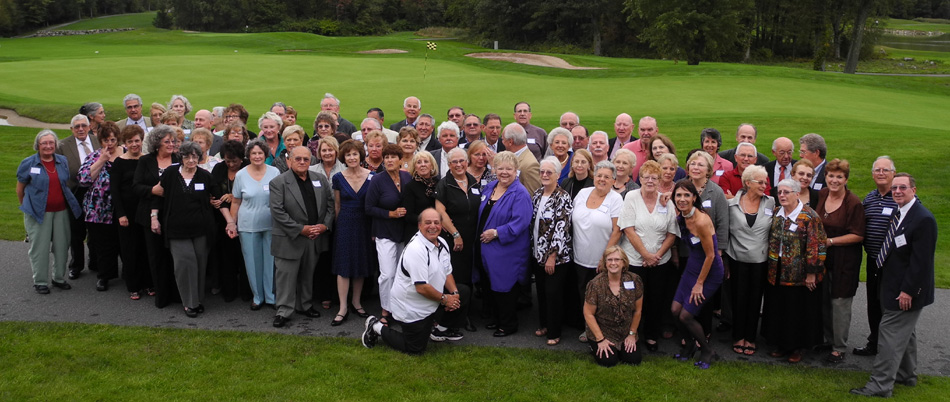 Project 7052 Reunion Group Photo, Fairview Golf Club 09-24-11
| | |
| --- | --- |
| Forget it, Rog, It's Like Trying to Herd Cats !! | Our cake, a work of art ! |
The site of our very special Birthday Party and Class Reunion, Held September 24 and 25, 2011 !
"PROJECT 7052"** IS COMPLETE !
**We Celebrated 70 Years of Life, 52 Years After Graduation
| | |
| --- | --- |
| View from the balcony and dining room. Class photo was taken here. | A fantastic venue, a glass of wine (Photos by Jack) |
The final committee meeting was held on Wednesday, Sept 14, at the home of Don and Donna Marciano. All final details for "Project 7052" were discussed, finalized and we are ready to go !Committee Members: (Not shown in any order): John Cellerino, Elaine Kules Berry, Art Frigo, Class President Roger Fulton, Pat Cable Thompson, Joyce Hock Leifert, Doramae Bray Iffland, Don Marciano, Reunion Chairman, Gretchen Muller Ross, Heather Yale Gromko, Barbara Krieger Dobos, Rich Knapp, and Jack Wallace. Missing from photo: Art Frigo and Rich Knapp.

At the same meeting, the committee presented Don and Donna a gift certificate for dinner at the Carmen Anthony Steak House, as a token of our appreciation for hosting all committee meetings, providing refreshments, etc., etc. Thank you Don and Donna !! Class Mascot and Honarary Chaircat, "Spencer" is shown looking for his gift ! Sadly, Spencer passed away around August 2018
LINKS TO AREAS OF INTEREST (lots of good information here)